---
What's New - Timeline - Articles - Techniques - Catalog - Seminars - Links - Contact Us
---
School of Two Swords
Bowie Knife Seminar - Paradoxes of a Deadly Myth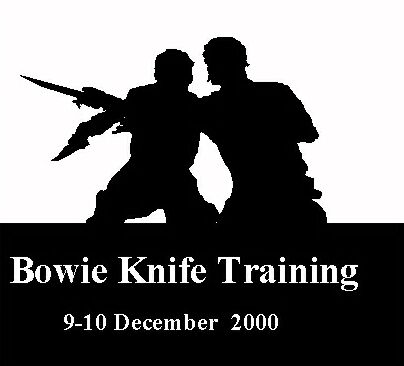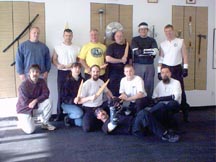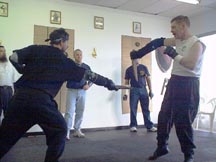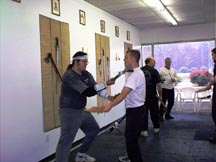 Group shot, Dwight teaching a defense to the thrust, Students practice.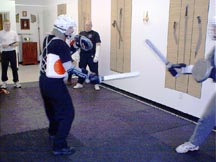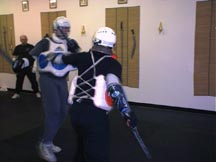 Bowie and Buckler, Double Knife sparring.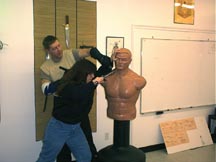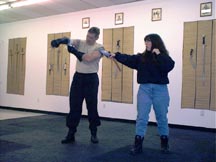 A close-combat stab and thumb to the eye, demonstrating the elbow action of the mid-line backcut.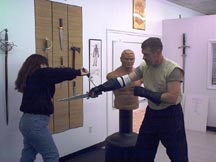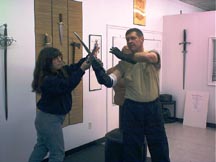 Defending against the mid-line stab and high punta reversa with a backcut flow and hand trap.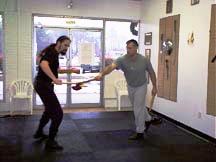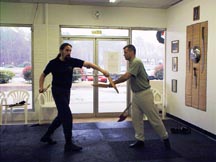 Passing the forehand blow with the tomahawk and passing the follow-up knife thrust.
In this sequence I am assisted by Capt. Tim Sheetz, US Army, West Point.
A Virtual Tour of the School of Two Swords










With tons of training weapons, live steel, and pictures of the Western masters, the School of Two Swords is a modern swordsman's dream come true. Like the old dueling salles, the school focuses on the true fight, with sparring done in every class to insure that the techniques are not just learned, but can be done for real. Dwight has coached a number of champions in the full contact weapon sparring done at the major Chinese Tournamments - using the Western Blade Arts to do so!
---
What's New - Timeline - Articles - Techniques - Catalog - Seminars - Links - Contact Us
---