---
What's New - Timeline - Articles - Techniques - Catalog - Seminars - Links - Contact Us
---

5th Western Martial Arts Workshop
October 22-24, 2004 - Amsterdam, NY
Seminar Report by Pete Kautz & Lily Gold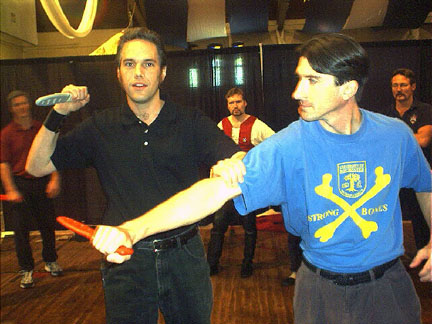 Teaching the German Dagger of Master Andre Lignitzer with my senior student Kurt Piller
In the background are (L-R) Bob Charron, Christian Tobler, and Anthony Delongis

Howdy all!

Lily agreed to write the seminar report this time so I get to take a break and have a cold one while she does all the work! Her report is in orange text below. I'll add comments in green text. - PK

The WMAW was a blast. It was great to meet a bunch of people who Pete has told me about for years, especially Bob and Kristi Charron. The road trip was Pete, Kurt and me. Sadly Judd, Janaki and Chris were not able to go (schedules and car troubles).

We arrived Thursday night and the festivities began - 4 nights of very little sleep.

Friday:
In the morning, Kurt and I assisted Pete in his Medieval German Dagger Techniques of Master Andre Lignitzer (3 hour class). I ran around as support while Kurt took the lumps. People seemed to really enjoy it and pick up quickly.

After lunch Pete went to a bullwhip class with Anthony De Longis, and Kurt and I went to a lecture on "The Medical Reality of Historical Wounds" which was really interesting. Great stories from the past and present about wounds that should have killed people or at least taken them down, that didn't. At least one of the guys who gave the talk was a doctor, so all of the modern stories were either from his own experience as a doctor or from a colleague of his.

Then we went to Bob's The Lanza of Fiore Dei Liberi (spear) class. That was fun. I was able to hobble my way through by relating it to the bayonet, which seemed to work. Pete joined back up with us and we all got yelled at in Italian for 90 minutes while taking Cosimo Bruno's Body Mechanics and Physical Training for Italian Cane Fencing. I really enjoyed it and found that I was able to relate it a bit to the Arnis that we do. Good stuff.

We were all pretty tired after that, returned to the hotel, went out for some really horrible food, and spend the rest of the evening drinking and visiting with everyone in the hotel lounge.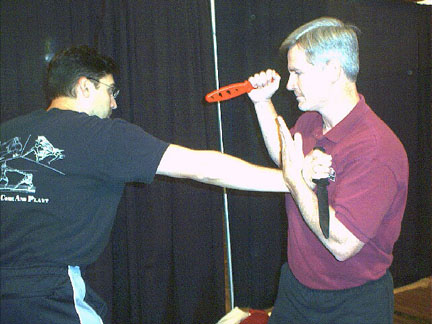 Bob Charron has under-wrapped Tim Ruzicki's stab and prepares to deliver a stab of his own

Saturday:
Pete did his 90 minute class - And Snatch Away Their Dagger! Knife Grappling and Disarming Tactics: Then & Now. People seemed to like it as well. It was fun to see everyone getting a chance to roll around on the floor and wrestle over a knife.

After lunch we went to Tomahawk and Longknife, taught by Steve Huff. This was the class that Dwight McLemore was going to teach, but he couldn't come and had Steve teach it in his place. Though it was sad not to see Dwight, it was excellent to meet Steve and he taught a kick butt class. Great fun and we'll definitely be getting our tomahawks out to play more in class!

After this came a repeat of Friday night - we returned to the hotel, went out for some really horrible food, and spend the rest of the evening drinking and visiting with everyone in the hotel lounge.

Saturday night I had the opportunity to chat with Mr. James Loriega. He is definitely a valuable resource of martial art information that I don't believe enough people realize and take advantage of. That was fine with me, I was able to chat with him uninterrupted for hours. Interesting and informative! He's been training for over 37 years! I pity the guy who thinks they are going to mug him...

Saturday night also saw a small group of us slip away to a secluded place to take part in some incense sparring.

Just as it sounds, you play on the arms with lit incense sticks to a single touch. Everyone did very well for themselves, and a good spirit was present. It made me happy to see that people could understand and accept this. Treasure what you learned and treat even a rubber knife with the same respect you gave that incense stick.

Lily took a photo of the group with someone's camera, but we don't remember who's it was! If YOU have a picture of the group that was out there, please let me know! - PK

Sunday:
We were exhausted by Sunday and slept in. We got to the event about 1:00 pm. I'd wanted to take Tim's class on wrestling but it was just too early in the morning. I have no idea how Pete ever manages to get up and run conditioning classes early in the AM at these events on no sleep...

We did get there in time to see the end of the tournament. It was interesting seeing the fencing, though I must confess that I didn't quite understand the scoring. It was cool to see the different styles of fencing that were out there facing each other, though. Everyone looked like they had fun.

Next was the class I was really looking forward to - Introduction to Navaja Sevillana (Spanish knife) taught by James Loriega. I wasn't disappointed. 3 hours well spent! After a good historical introduction, showing us about a dozen beautiful Navajas and allowing us to handle them we got down to business.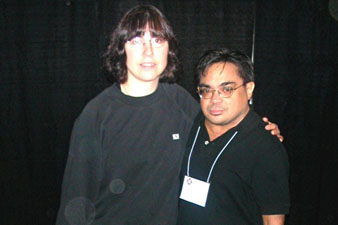 Lily Gold & Master James Loriega
We covered many aspects of the navaja, grips , guard positions, slashing techniques (my favorite name was the "San Andres" - yeah, I'll give you a blessing), thrusts, counter-thrusts, evasive footwork, applications, drills and more. I liked the use of the flamenco music in class to build the rhythm of the fight. Mr. Loriega's assistant Francisco was a great guy, too, and I hope to train with them again!

Sunday night we had a nice quiet dinner in the hotel restaurant (it was OK, but seemed like gourmet after all the bad food we had) Then a repeat of staying up late drinking and taking to people. I must have emptied the bar of cranberry juice ;)

It was a good weekend. Learned a lot and got to meet some nice people.

Thanks Lily for the report! Thanks to everyone involved for a lot of fun. I look forward to seeing everyone again at the next WMAW in Chicago / Racine. - PK
---
What's New - Timeline - Articles - Techniques - Catalog - Seminars - Links - Contact Us
---