---
What's New - Timeline - Articles - Techniques - Catalog - Seminars - Links - Contact Us

---

Big Steel Seminar
Medieval Dagger and American Bowie Knife
August 10 in Ottawa, Canada
Hosted by Young Forest Kung Fu and Arnis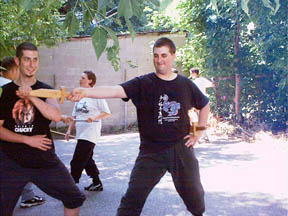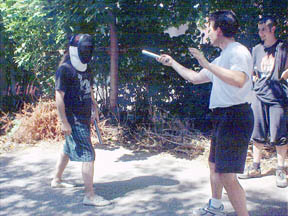 Click HERE for 3 Photo Techniques From the Seminar!
Twenty-five people took part in the 2002 Big Steel seminar in Ottawa, a full-day event which covered drills and techniques for both the Medieval dagger and the American Bowie knife. As always, there was a mix of students from the Young Forest school (some of whom I have known for over 10 years now) and folks who were from other organizations. The Young Forest family (with their great hospitality) and Anton Cvet and his folks from the Academy of European Medieval Martial Arts again helped to make this a true "East meets West" experience!

The morning session consisted of forward and reverse grip dagger vs. dagger and dagger vs. empty hands material from the von Danzig manuscript. We covered the long range rondel fighting, the close-quarters blade trapping and disarming, and the empty hand counter-knife skills of Master Martin Huntfeltz and Master Andre Lignitzer. After several hours of high-energy training in the glorious sunshine, everyone was good and hungry for lunch.

The afternoon saw the class working on the American Bowie knife. Drills and concepts from Western fencing were taught in a format which required the students to constantly try to make contact with one another using safe, simulated training knives. The classical techniques were refined in drills and then put into application in assaults to the first touch, where a double-kill meant both participants would have to pay a penalty.

Sunday saw a more relaxed morning of training, as the Young Forest crew worked with Lily and others on the basics of Shaolin Kung Fu. I answered questions that a number of people had about different aspects of their training and worked with a small group on the Comtech Drawpoint knife-method and covered a few methods of fighting with a bandanna.

"Thanks again for an excellent seminar. Not only did I learn a whole bunch great drills and concepts (the True Times, for example), but as always I've come out of the seminar with a refreshed approach to training. I always tell people that these seminars are worth it not just for the material, which is consistently excellent, but also because your enthusiasm for the material is infectious. If you train long enough, I've found you sometimes need ways to revitalize interest in training, and seminars with Alliance do that...And do it well! Oh yeah, and; "No Bullshit". Thanks again for all the extra stuff, from just playing around. Not just money's worth, but money's worth plus. Whew. Cheesy? Maybe, but I mean it all!" - Kevin Hill

Click HERE for 3 Photo Techniques From the Seminar!
---
What's New - Timeline - Articles - Techniques - Catalog - Seminars - Links - Contact Us
---