---
What's New - Timeline - Articles - Techniques - Catalog - Seminars - Links - Contact Us

---
2nd Annual Medieval Swordsmanship Symposium & Pas d'Armes
June 7th - 9th in Livermore, CA
Sponsored by the Schola St. George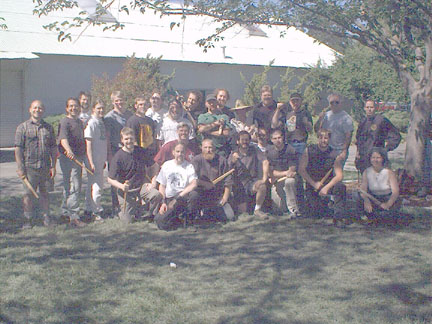 Sunday Class for the German Dagger Intensive
"How was it?" Lily asked. Such a simple question, but my mind went blank…

I could not find a word or a sequence in my vocabulary to describe what I felt, and after a long moment in which she probably wondered how many martinis I had enjoyed on the flight, I finally was able to articulate my thoughts; "Possibly the greatest week of my life."

There are times in life when things just flow; special moments rich with laughter, profound with insight, and rejuvenating for the soul. The recent Swordplay Symposium in Livermore, California was one of these times for me. For a week, I felt blessed to be in the good company of so many long-lost family members.

No matter how long it is with people like this, the conversations never end, they just get paused for a year or so, and then pick right back up. Even folks I had not met were just like family 5 minutes after the introduction. As the old saying goes, there are no strangers, only friends yet unmet, and the people who came together for this event were no exception.

This was all possible thanks to our hosts, Brian and Ann-Marie Price, who let all of us "sword bums" invade their home like so many dead-heads at a concert (1) while they worked away endlessly on the specifics of the event; Brian chained to the computer and Ann cooking furiously to insure that come the event, people would be well fed after training. The Prices have offered so much service and dedication to the dream we all share to make these things possible, and I can't personally thank them enough for all they did!

It was wonderful to work with so many skilled instructors - the only downside was not being able to be in 3 other places at once to absorb all the classes which were offered! How do you chose between them when, like a magnificent buffet, everything looks so good? With four tracks of instruction running at any one time, there was opportunity to train, train, and train some more in Western arts ranging from the 15th to the 19th centuries, and this year including some top-notch traditional Japanese instructors as well.

The participants came from a wide range of backgrounds including sword enthusiasts and collectors, SCA folks, martial artists, stage combat instructors, classical and historical fencers, and so on. It was great to finally meet so many people who's names are familiar from the Internet, and see what their groups are doing. I was especially pleased to see how the students in some of these new groups are developing both in terms of skill and character on the floor and off.

As far as the classes themselves went, I found that they were all intensive and well taught. The instructors were comfortable with their material and all had rich insights into its application. I managed to get classes in with Dale Seago (Scottish Dirk), Christian Tobler (German longsword), and Bob Charron (Fiore's longsword and sidesword) over the weekend and was amazed at the amount of good stuff that was presented, how logically it all related, and the way it was taught. Though each instructor had their own style of teaching, their expertise allowed them to make it easy for everyone to learn. I managed to get some time informally with Steven Hand on I.33 and Maestro Paul MacDonald on the singlestick as well, and these guys are top notch as well when it comes to teaching.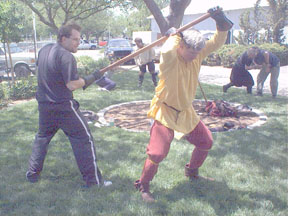 Bob Charron (R) doing a staff-wrestling drill
There was a small but enthusiastic group of 16 who turned out for the traditional conditioning class I taught on Friday. (I give them extra points for bravery, since the class was scheduled right after lunch…) We started with a brief history lecture on games and their relations to culture and history, and then we were off and playing. This concept of play is so important that even Fiore DeiLiberi uses the words "zugare" and "zugadore" ("play" and "players") to describe the way we must train. Covered were mass fighting and wrestling drills, deep breathing exercises, body-weight calisthenics, developing explosive speed, Indian clubs, cold water dousing, nutrition, and much more. By the end of the class, everyone was tired and happy, with a real sense of accomplishment at all they had done.

The Sunday class I taught was an all-day immersion in the German style of dagger fighting and unarmed defense. The techniques we covered came from the Von Danzig manuscript, and were the works of Master Lignitzer and Master Huntfeltz. This rare manuscript was translated by Christian Tobler, and will be seen in his upcoming book "Secrets of German Medieval Swordsmanship Vol. II".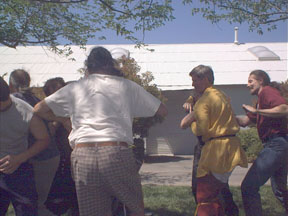 Mass fighting drills pit the entire class against one another!
This class was a sneak-peak at some of the core German dagger fighting material which is revealed by these masters, as taught in the Alliance format of "classical techniques, modern training methods". Over the day we covered many aspects of dagger fighting including body evasions, quick draw, attack counters and defeating the secondary lines of defense, throws and counters when thrown, disarms, knife grappling, and translating these skills to pistol defense, the relationships between the German sword, dagger, and unarmed methods, and much more. Many drills were shown so the attendees could learn how to train these skill intensely, yet safely, in their own practice.

By Monday morning, my brain was exploding with information from the weekend, and it was too soon time to head back to NY. Even as I walked towards the jet, I knew one thing…I can't hardly wait for next year to do this all again! If you live on the "Left Coast" of anywhere near and feel that the Chicago / Toronto / NY Western Martial Arts Workshops (WMAW) are all too far away, then this is the event to attend!

Q: What do they call dead-heads now that the Grateful Dead has broken up?
A: Homeless people!
Q: How can you tell a dead-head came to visit you?
A: He's still there!



---
What's New - Timeline - Articles - Techniques - Catalog - Seminars - Links - Contact Us
---