---
What's New - Timeline - Articles - Techniques - Catalog - Seminars - Links - Contact Us
---

SFC Knife / Counter-Knife Seminar
Des Moines, Iowa - September 28-30, 2001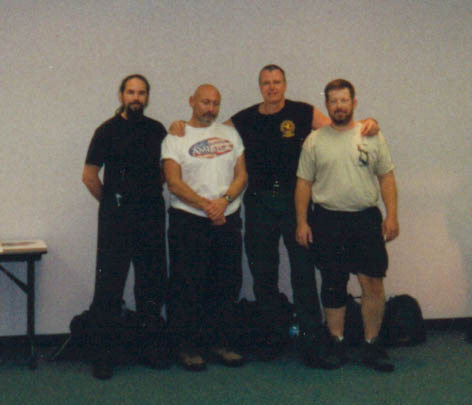 Pete Kautz, Jerry Van Cook, W. Hock Hochheim, Dr. Jeff Alan
The SFC Knife / Counter-Knife camp in Des Moines was a large event with a number of teachers doing theme classes in addition to the SFC course, taught by Hock Hochheim. The event took place at NLSI (National law Enforcement Security Institute) which is headed up by Police Chief Mike Gillette. The NLSI is an amazing facility and top notch place for both recreational shooting and civilian or professional training.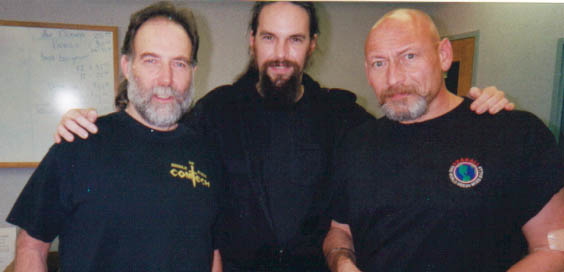 Mike Sastre, Pete Kautz, Jerry Van Cook
Jerry Van Cook was on hand to teach some of the dirty tricks he learned in his many years as an undercover cop, and he shared a number of mental and physical ways to set an opponent up for your strike. Dr. Jeff Allen taught a great session on the Fillipino use of the matchette, showing how the blade art differed from the sticks. For my part I taught classes on the Medieval dagger and wrestling, and another on the art of mass fighting. Concealex wizard Mike Sastre was also there, with many of his fine sheaths. He plainly demonstrated how easy it was for even a small person to wear a large Bowie knife concealed, without any hassle, given the right cary system.
---
What's New - Timeline - Articles - Techniques - Catalog - Seminars - Links - Contact Us
---